NANOPRESSO NS ADAPTER (HK)
Coffee kit accessories for pods
Sale price Price $15.90 USD Regular price $19.90 USD exc.VAT
The NS Adaptor allows the Nanopresso to use NS CAPSULES* to prepare espresso. The advantage of using capsules is that the coffee is mechanically ground, measured, and tamped with a higher precision than we are capable of doing by hand.  There is very little left for error, so your espresso is consistent every single time. Pods are convenient, mess free and easier to clean after use.
*NS CAPSULES refers to Nespresso®** Original capsules and compatibles. Note that some non Original capsules might not work well with our machines.

** Third-party brand with no link to Wacaco Company Limited
CHARACTERISTICS
Dimension
66x62x62 mm
2.60x2.44x2.44 in
Weight
130 g
0.29 lbs
Remark
NS Adapter can only be used
on Nanopresso.
Package include
NS Adapter and
instruction book (english/chinese).
VIDEO
Products shipped from multiple fulfillment centers across the world (US, EU, CN). Customs taxes or duties may be charged to the recipient at import. For more information read the Shipping Policy.
REVIEWS
Customer Reviews
Write a Review
Ask a Question
11/10/2020
Oliver T.
United Kingdom
Perfect fit for my Nanopresso
Simply install, pop in a pod, hot water and you've got a nice cup of espresso with a lovely crema. It just seems to drip a lot after getting it started so I'm not sure if I just got a faulty valve but it still works.
11/10/2020
Eugene M.
New Zealand
Doesn't fit inside of the case.
Though it works great, and looks beautiful when attached. But with the adapter attached the Nanopresso doesn't fit inside if the inclined case. Which is a shame taken that it would take only a few additional millimeters in the length, and that majority is probably buying Nanopresso with the adapter.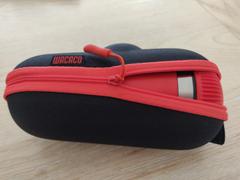 11/04/2020
Leslie G.
Australia
Great.
A great addition to our coffee making , using the pods is a bit lazy .. but easy