NANOPRESSO L-CASE
Sale price Price $19.90 USD Regular price
DESCRIPTION
Nanopresso L-Case is made of durable EVA material and soft fabric interior lining. It is specially designed to fit around the Nanopresso with the addition of the adapter ring from the NS Adapter or the Barista Kit, and the addition of the large water tank (140ml) from the Barista Kit. The case helps protect from any bumps, scratches and dust. With the addition of the Nanopresso L-Case be ready for your next big adventure. Note that the Nanopresso portable espresso machine, the NS Adapter and the Barista Kit showed on some of the pictures nearby are sold separately.
CHARACTERISTICS
Dimension
230x77x72mm
9.05x3.05x2.85in
Weight
90gr
0.18lbs
Other
Built-in attachment loop for carabiner.
IMPORTANT
Read our Shipping Policy as well as our Return & Refund Policy prior to purchase our products.
FREE SHIPPING - Products shipped from Hong Kong. Customs taxes or duties may be charged to the recipient at import. For more information read the Shipping Policy.
REVIEWS
Customer Reviews
11/24/2019
Stephen R.
United Kingdom
Ideal
So I have loved espresso since working for an italian company years ago. I have an electric barista machine in my home and use daily for my wife and I. However when on holiday (especially in rural cottages or overseas) I have been coping with french press instead. SO picture the scene. a 300 year old riverside cottage at 9am. Amazon deliver my Nanopresso along with barista kit. I leapt fo caffeine based joy and used it every day with gusto. However, it was concerning that once the barista kit was used, the case didn't protect the nanopresso effectively when travelling. So finally i get to the L-case. It was ideal to hold the full size espresso with barista cup portion and double espresso portion! I feel safe taking along in my bags and confident I can get my morning coffee no matter where we are.
SV
11/17/2019
Stephen V.
United States
Believe the hype
I'm a very skeptic person by nature. Usually when something like this that sounds too good to be true comes Ali g it usually is. But I can tell you now that my Nanopresso exceeded all my expectations and is now one of my favorite pieces of gear. This thing is amazing. You won't regret you purchase.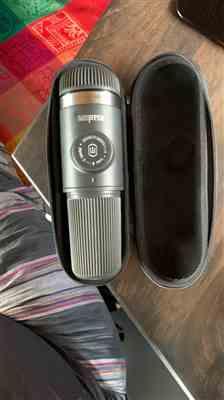 10/21/2019
Nikolai G.
Thailand
L-Case
Good for keep your Nanopresso safe during travel. Great quality!